Description
Our Regular Plinko is our smallest Plinko, yet it still a very popular choice. Even though it is our shortest and cheapest, people still love him because there are 14 spots on the bottom, which is double the amount of spots as our other Plinko's!  Plinko Rentals are such a popular choice for Fundraisers as they are just so simplistic.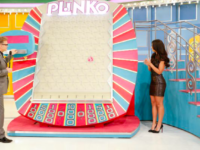 Plinko is a classic game taken from the popular game show called "The Price is Right".  It began with Bob Barker in 1983 and then  Drew Carey took over the show 30 years later.  Over the years, people started making their own Plinko boards to have at Fundraisers.  Growing up, the Owner of Jack of all Spades named Carrie used to religiously race home to watch The Price is Right at 11am each day.  Plinko was always her favourite game to see.  Then fast forward to 2007 when Carrie attended her friend's Stag & Doe, and her favourite game that they had there was the Plinko.  It was this experience that inspired her to start her own business.  You can say that Plinko started it all!
We love it because of how simple it was, and that no skill is required.  You drop a chip and watch it trickle down – that is it!  We also love that every spot can be a winner.  So even when you technically lose and do not win something big, you still get a raffle ticket.  Plinko Rentals are such a crowd pleaser that is fantastic at Stag & Doe's, other Fundraisers, kids parties, and even at Casino Nights!