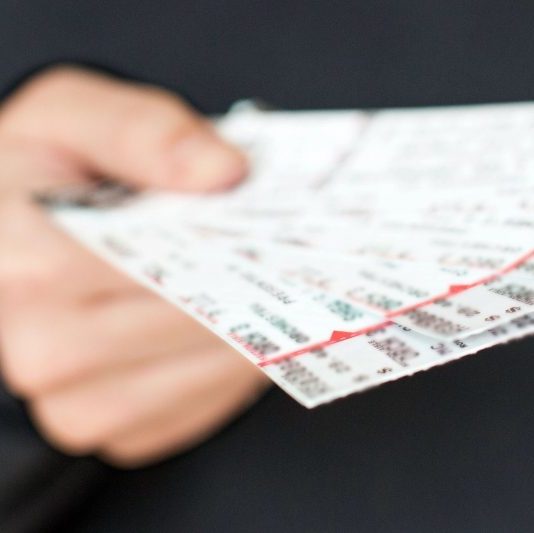 Find people who are outgoing, good in the field of sales, who are well liked and know lots of people, are not afraid to ask people for things to sell your admission tickets. You should get family members to sell to family members and their friends; friends to sell to their family and friends; coworkers to sell to coworkers and their friends, etc.  Make a list of everyone you know, go through your phone contacts, go through your Facebook contacts, talk to neighbours, talk to coworkers, talk to people in your social circles at school, sporting events, or church.  Keep talking and always have your tickets handy!!
You might want to put on the ticket itself, what the major door prize will be.  That way if people have bought the ticket but are contemplating going, this will remind them of why they need to go!
Do not have just one person selling the tickets as this is a lot of pressure and not fair to them. Get many people selling them, as it is a lot of work and you will sell more this way. Do not count on people showing up at the door either just because you told them when it would be – always sell tickets in advance even if you are certain they will come. Many people will buy tickets just to show support, but will have no intention of going to the event.
You may want to consider using a ticket spreadsheet to keep track of who is selling which numbered tickets. Encourage as many people as possible to pay upfront, which will help prevent you from confirming an inaccurate number of guests with the hall.  You might also want to offer everyone that buys a ticket, to be able to win a door prize, even if they are not there.  So rip that admission ticket part off for the door prize, have them write their name and number on it, and set it aside for them. This will encourage people to buy tickets, and maybe more than one if the prize is good enough!  Or sometimes people allow them to be part of one of the grand prizes, but offer the guests that actually show up the chance to win the "super grand prize" which will encourage everyone to come!
Some people offer a special rate for couples such as this: $10 for one person, or $15 per couple.  We think that the spouse is going to come no matter what – it would be weird if you approached your aunt and she only purchased one ticket and not one for her husband.  So if she is going to buy two anyhow, don't offer a special rate.  If you are in the Niagara region, the going rate is $5 per ticket.  Once you get to Grimsby/Stoney Creek/Hamilton, the price is more like $10.  Once you get to Burlington/Oakville, the price is more like $15 each.  Don't get us started on Toronto prices… but we see them closer to the $20 range.  If you include a full dinner at a fancy hall, then feel free to charge more.  We like the $10 price range – as it doesn't scare people away!
Category: Fundraiser Planning