Your Personalized Quote
Your Wishlist is currently empty.
Some Tips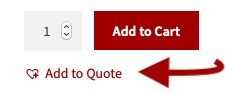 Want to add games to your Wishlist? CLICK HERE to go see our list of Games and HERE to see our Packages!

← Once you find the ones you want, instead of clicking "Add to Cart", click on "Add to Quote".
Once your list of games appears, click on ✉ below your quote, and it will send you a link to your inbox so that you can revisit this Quote later.
Scroll down to see some answers to questions that we KNOW you must have! Feel free to search our FAQs too below if your question isn't listed.
Search FAQs here
FAQs that you might have Prior to Booking
Search FAQs here