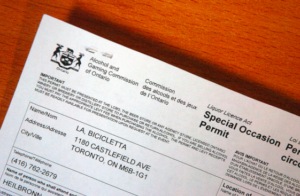 You need one of these before you can even consider holding an event that sells alcohol!  Be sure to visit the AGCO Website as well as check with the hall to make sure you are following all of their rules too, as you don't want to have any future issues due to a misunderstanding.  Special Occasions Permit or SOP seems complicated at first, but we assure you they are not! Also know that the advice we give in this article, is based on what we knew at the time of writing this. The AGCO can at any time review and rewrite their policies so this is just a guideline.
Not sure which kind of SOP to get?  See THIS PAGE for a quick summary. If you are having a Stag & Doe, you are having a Private Event and will need a Sale Permit.
The AGCO is full of information, and they put together this 1 minute video if you want to really understand the process!
One other thing that the AGCO has done for you, is put together a Tip Sheet from May 2017 that should make things pretty clear for you and answer any legality questions:
AGCO TIP SHEET

Categories: Drink FAQs, Permit, License and Insurance FAQs